Cinque Terre Yacht Charter Guide
View Charter Yachts in this part of Italy >
One of the most idyllic and rustic areas of the Italian Riviera which is known to luxury yacht captains and superyacht owners is the Cinque Terre. It's an important yacht charter desination in the western Mediterranean and Cinque Terre yacht charters are very popular. Protected by UNESCO as a world heritage site, this particular area offers sandy cliffs and colorful houses in the five villages of Monterosso, Vernazza, Corniglia, Manarola and Riomaggiore. Every village in Cinque Terra is unique in design and character and offers a jumble of crooked streets, enchanting cafes and tiny beaches that are waiting to be explored. The cuisine here is at its authentic best and the views at every corner are magnificent.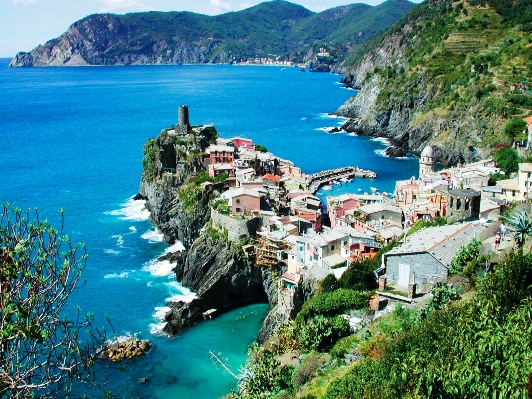 Riomaggiore
From the south, Riomaggiore is the closest village to La Spezia, a vibrant and colourful town. The village has narrow streets and pretty buildings that treat visitors with old Italian hospitality and charm and amazing seaside views.
Manarola
One of the best known views of Cinque Terre are the one that are enjoyed on the path that leads to the village of Manarola from Riomaggiore with flourishing undergrowth, sweeping beaches and overhanging rocks. The village of Manarola is peaceful, pleasant and picturesque. It offers a little more cosmopolitan feel with a sprinkle of restaurants and bars overlooking the sea. The pastel coloured houses and fishermen boats are just as charming.
Corniglia
The quietest village in Cinque Terre is Corniglia and it is the only one that is located above the sea level. This beautiful village offers locals a private hideaway as it is sheltered high. This little gem can be reached by the bus or the train after a challenging walk.
Vernazza
Vernazza is known to be the most captivating, bustling and bright of all the Cinque Terre villages. It offers waterfront cafes, quaint shops and a small harbor filled with immense charm. Vernazza has a very casual, elegant and jovial atmosphere and is the perfect location to enjoy a delicious lunch or just sit and enjoy the postcard style breath-taking views.
Monterosso al Mare
The last in the Cinque Terre villages is the village of Monterosso al Mare, the most modernized and the largest of all five villages. It is the only village in the region that resembles a resort town and this is where the most beautiful beaches and the finest hotels can be found. Monterosso is known for its beautiful seaside promenade, its innumerable gelato parlours, its uphill streets and its trinket stalls that make an evening walk pleasurable.
A Selection of Charter Yachts in Italy:
Charter Yacht Disclaimer
This document is not contractual. The yacht charters and their particulars displayed in the results above are displayed in good faith and whilst believed to be correct are not guaranteed. CharterWorld Limited does not warrant or assume any legal liability or responsibility for the accuracy, completeness, or usefulness of any information and/or images displayed. All information is subject to change without notice and is without warrantee. A professional CharterWorld yacht charter consultant will discuss each charter during your charter selection process. Starting prices are shown in a range of currencies for a one-week charter, unless otherwise marked. Exact pricing and other details will be confirmed on the particular charter contract. Just follow the "reserve this yacht charter" link for your chosen yacht charter or contact us and someone from the CharterWorld team will be in touch shortly.