Greece Yacht Charter
Go here for a list of Greece yacht charters in the Mediterranean.
Eastern Mediterranean Greece yacht charter holiday offers charterers so much to explore around the various famous sunny Greek Islands, boasting remarkable ancient history, unique architecture and charming little waterfront villages tumbling down the island mountains. Greece yacht charter vacationers tend to revisit Greece year after year, as there are plenty of ancient ruins and ancient history to soak up. Anyone heard of Homer, Virgil, Ulysses, Socrates or Troy?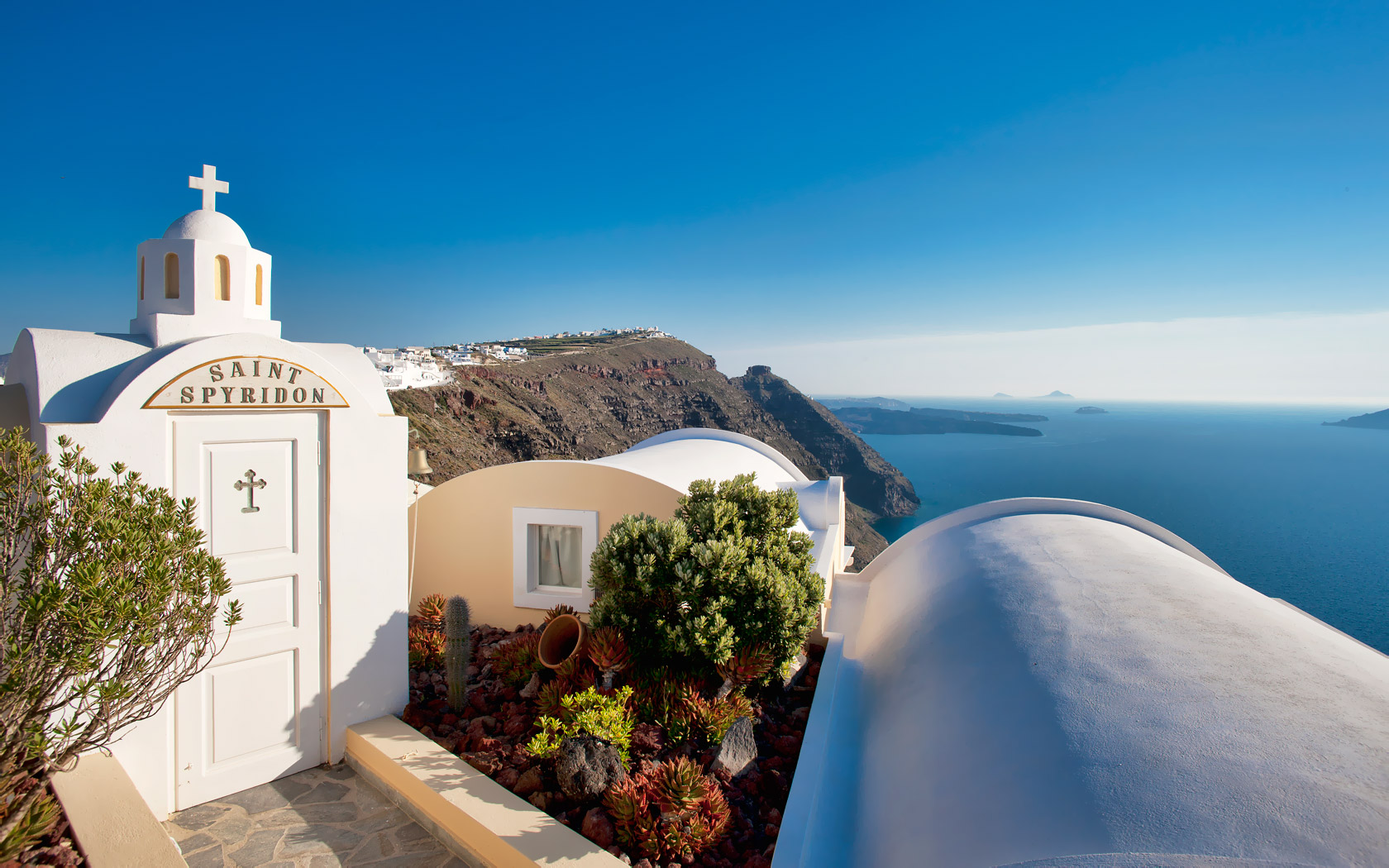 Greece also boasts magnificent natural beauty. The stunning aqua or dark blue waters and the faultless blue skies are a draw card for sailing yacht charter vacations as well as luxury motor yachts. Greece is still one of the most sought-after yacht charter areas in the Mediterranean, be it luxury crewed yacht charter or bare boat yacht charter, due to the huge number of things to see and do and the relative close proximity of everything by water.
Perhaps it's the sexy sophistication of Mykonos, the music and dance of Zorba and the timeless romance of Santorini that attracts Greece's shores. The Greek Islands are an intense blend of past the present, old and new. The Greeks are strong in their traditions and beliefs. Widows dressed in black can stare accusingly at the scantily dressed tourists, yet moments later, invite you in as welcomed guests. Bustling taverns and modern discos entertain the young and young at heart.
The Greek hospitality is unchallenged. A sailing yacht vacation or a power boat charter is a great way to experience all the Greek Islands have to offer. There is also increasing demand for luxury yacht charter and superyacht charter in Greece. After the sunset you can relax in your charter yacht's cockpit sipping on Greek wine, Dolmadakia (stuffed vine leaves) and Tzatziki whilst listening to the soothing sounds of Bouzouki music drifting from a little harbour village.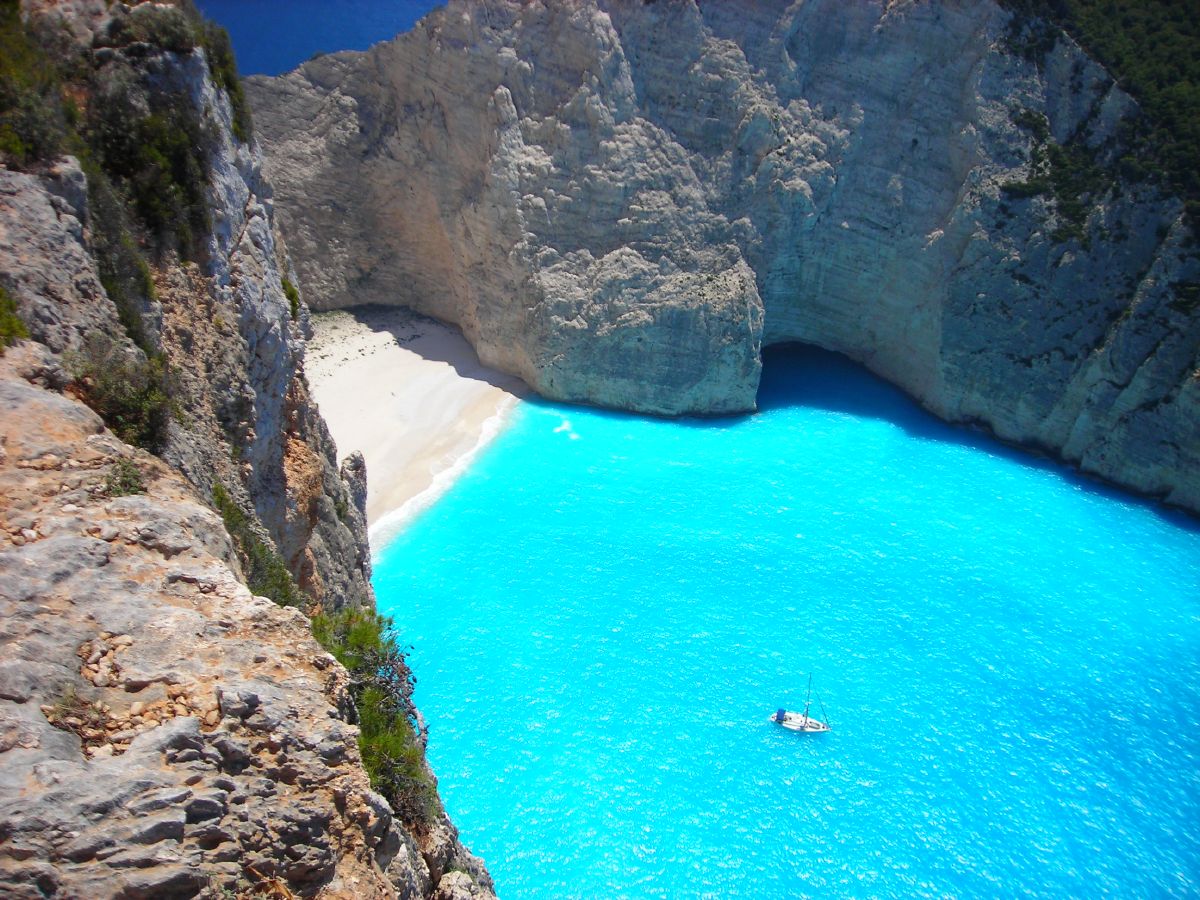 As a Greece yacht charter covers so much territory. Let's have a brief look at the main areas to charter your yacht. For ease, we have broken Greece charter locations up into 4 main yachting areas: the Ionian Islands, the Aegean & Sporades, the Cyclades and last but not least the Dodecanese.
Each Ionian Island in Greece holds a different charisma and charm for sailing yacht charters vacations. The Islands that you can explore on your yacht charter include Eptanisa (The Seven Islands): Corfu, Kefalonia, Zakinthos, Lefkada, Ithaca, Paxi and Kythera. Some highlights include the busy touristy but beautiful Corfu as well as the Smugglers Cove. It can only be accessed by sea at Zakinthos and is one of the most famous and stunning beaches in Greece. The Blue Grotto is another spectacle of the ocean.
Greece's Aegean Islands are less visited than the Cyclades, which makes them the perfect place for a less crowded yacht charter holiday, particularly if you're interested in art, culture and history and also the fertile countryside is simply beautiful. Some of the islands include Samos, Lesvos and Samothraki. The Northern Sporades on the eastern side of Greece are also a very popular yacht charter area with some of the prettiest, thickly wooded, islands in the Mediterranean.
The Cyclades offer both culture and the offer of hedonistic pursuits. There are ancient sites, Byzantine castles, museums and lively nightlife, shopping, dining, and of course the famous beaches. Some hotspots in this area include Mykonos, Delos, Santorini, Sikinos, Paros and Naxos, and Serifos.
The Dodecanese is the most southerly group of islands in the Southern Sporades. The group includes the 14 larger islands of Lipsi, Patmos, Leros, Kalymnos, Kos, Astypalea, Nisyros, Symi, Tilos, Rhodes, Khalki, Karpathos and Kasos, together with some 40 smaller islets and rocks; plenty to see and explore on your yacht charter.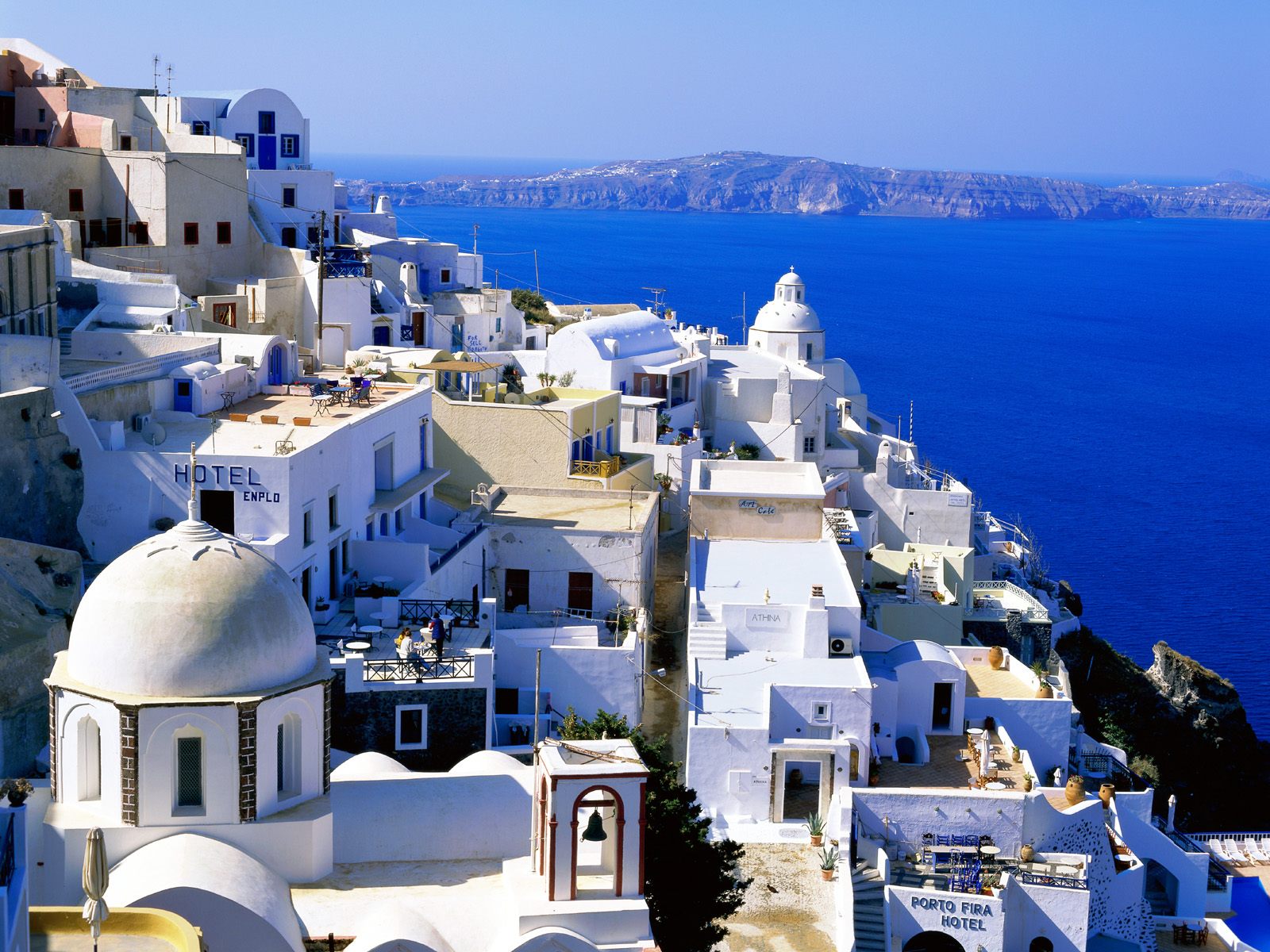 POPULAR YACHT CHARTER DESTINATIONS IN GREECE (see more in the menu at the top on the left)
Corfu is by far the largest island of the Eptanisa ("Seven Islands") in the Ionian Sea, located on Greece's far western coast. It combines a populous east coast with plenty of beaches and a dramatic west coast where few tourists go to cliff-faced inlets and coastlines. Corfu is extremely busy in the 'high-season', best time to visit Corfu on your yacht charter is in May or June.
Athens, the capital of Greece, is a captivating destination to be visited on any Greece yacht charter itinerary, which boasts of important history spanning around 3,400 years. Athens yacht charter is a fantastic way to discover the numerous treasures of this city while enjoying the luxury and unparalleled comfort of your preferred Athens charter yacht. Over the years Athens was occupied by many conquerors who built the many impressive monuments gracing this fascinating city. For more information about Athens follow this link.
KEFALLONIA or CEPHALONIA
Cephalonia is the most mountainous of the Ionian Islands and a perfect place for hiking amidst breathtaking views. The tallest mountain, Mount Enose of 5,340 feet is covered with the Kefallonian fir trees. On your yacht charter in Cephalonia you could also visit the Gentilini winery or that of Calligas, or experience great nightlife at Assos, with its fantastic panoramic views.
ZAKINTHOS
Zakinthos' real fame today lies in the native nestling grounds of the endangered loggerhead turtle, however it has also caused clashes between the irate environmentalists and villagers bent on developing the turtles' beach-front nesting ground. The main beach at Laganas is to be avoided as one of the main turtle nesting grounds. However, visiting Zakinthos while chartering a yacht you could go and see the Byzantine Museum in town for examples of the Zakinthian school of icon painting. From here you could sail around to Volimes for a look at the beautiful Blue Grotto.
ITHACA
Visiting Ithaca or Ithaki on you charter yacht you will come across rich deep-blue bays and mountains of flowers and trees. This patriarchal home of Odysseus is filled with mythology of Odysseus from a castle named after him to a cave where he is said to have hidden the treasures of the Phaiakes.
Poros is well-known for its "loukoumades", deep-fried batter cakes served hot with ribbons of honey. But it's also known for charming small streets, a long, impressive quay and the verdant lemon tree forests on the mainland across the narrow channel that separates the two.
HYDRA
Hydra is a sea captains' island. It was mentioned in the writings of Herodotus as early as the 5th century B.C., but a relatively recent history as a boat-building center from the 17th century on made it an island of note. Since the 1960s, its winding, picturesque streets have attracted jet-setters and well-to-do international hippies. Take a walk up these charming streets, climbing far up to catch a glimpse of superbly renovated old Greek houses. Later, descend to the port for some of the best restaurants on any Greek island
SPETSES
Spetses, a very small island, is likely the favourite site for affluent Athenians to build their modern weekend houses. But this island also has the distinguished good luck to be the birthplace of Bouboulina, fighting heroine of the 1822 War of Independence from the Ottoman Turks. Take a small trip from Dapia to the Bekiri cave on the west coast and to the south, sail past shipowner Stavros Niarchos' private islet Spetsopoula.
KEA
Kea is lovely, quiet and traditional. It is like going to the most remote islands in the Aegean. In the vilage of Ioulis you will come across a fantastic labyrinth of white Cycladic houses perched on the side of a mountain with a great main square.
Heading to Mykonos on you Greek yacht charter vacation you will encounter one of the most expensive Greek islands, with its countless resorts and its many, many good restaurants and bars. Mykonos is also one of the international jet-set's meccas and the glamour of its nightlife and population have been this barren island's chief attraction. Arriving here, anchor outside Mykonos Town's "Little Venice" with its row of waterfront cafes over-looking the water, and visit the Folklore Museum and the Archeological Museum at both ends of the quay. Shop by day or take in one of Mykonos' extravagant bars for a sunset drink.
DELOS
A 'must' on any Cyclades Yacht Charter is the tiny, windswept Delos, also known as Apollo's birthplace. It was also the centre of the pan-Greek Delian League which the city-state of Athens grouped around itself for defence purposes. For 1000 years, the sacred island of Delos also hosted the Delian Festival, which until the 4th century B.C. was the greatest in Greece. During this period, Delos was a free port and nearly the entire Levant traded and probably banked here under the protection of shrines erected to their various deities and religions.The remains of this greatness are vast and impressive.
Paros, located south of Mykonos, is another paradise for beautiful, fine-sand beaches. This charming little port is full of fishermen's houses and Athenian retreats. Like Mykonos, Paros is a centre of world famous windsurfing championships. Travel inland to the South for the Valley of the Butterflies which pulsates with thousands of fluttering wings in summer. For a quiet anchorage, stay at the sister island Antiparos, where there are many beaches, and an amazing cave called Spileon.
SANTORINI
Approaching Santorini aboard your sailing or motor yacht, you will be greeted by sheer, striated cliffs and white cubist villages perched at the summit. The island's western side you can access the top by an ancient bus, telepherique or a donkey. Visit the exquisitely charming far northern village of Oia, where the only traffic is by foot. Enjoy a drink and a gorgeous Santorini sunset overlooking a seamless custard bay where the volcano lies dormant. There are plenty of fabulous restaurants and bars to choose from. Drop anchor on the easily accessible east coast for a swim at black volcanic-sand beaches and unbeatable deep-sea diving. Don't miss Santorini's superb archaeological sites, including Ancient Thira, a Doric city- fortress from the 9th century B.C. high on a southern coastal promontory, and farther south, fascinating on-going excavations at Akrotiri, which is an even earlier Minoan settlement. Walk a few meters to the far southern tip for a breathtaking black-sand moonscape beach backed by a sheer red cliff.
Rhodes' main town Mandraki is full of shops, tourists and tourist paraphernalia. It is advisable to visit in early morning hours for its Medieval citadel built by the Knights of St. John, an order of Crusaders who ruled here for 213 years. In the old city, visit the memorable Byzantine Museum and the Mosque of Suleiman, subsequent conqueror of Rhodes. Inland, visit the lovely Valley of the Butterflies in summer, and Archangelos, the island's largest village, famous for soft leather goods and pottery.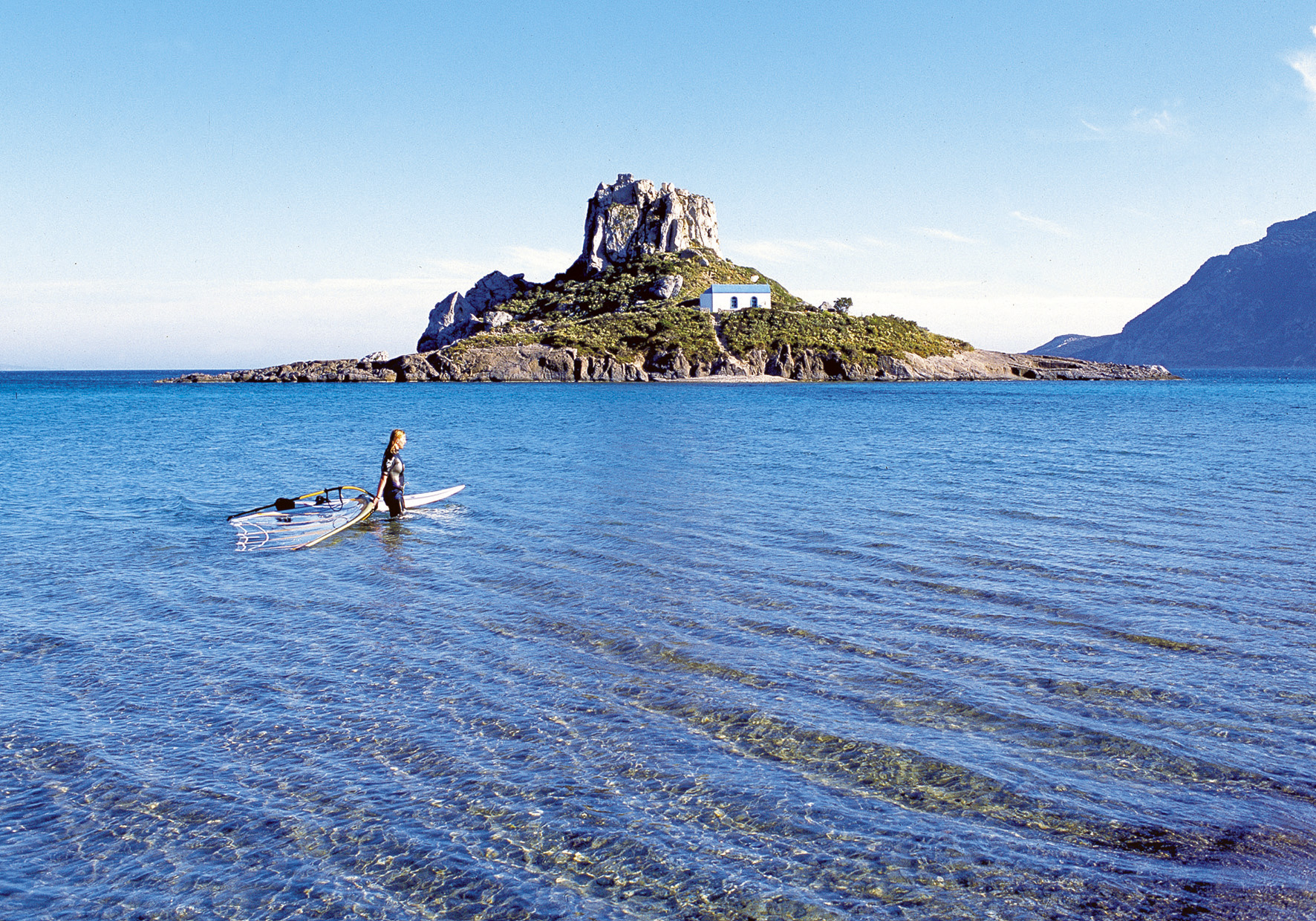 Each Greece Island often holds its own unique charm. While on your charter yacht you can easily acquire wonderful food such as fresh tomatoes, olives, oranges, strawberries, melons, feta, yogurts and bread from all Greece's main islands.
Many yacht charters around the Greek Islands tend to be sailing traditional Turkish Gullets. The cruising grounds are varied with the startling beauty of the Ionian Islands to the West, the modern sophistication of the Cyclades and the undiscovered history and artistic charm of the Aegean Islands. A sailing yacht charter holiday is the best way to enjoy a land of intriguing culture and startling beauty.
As one of the most well known yacht charter grounds in the Mediterranean, Greece offers all the main types of yacht charters. These include luxury motor yachts, sailing, yacht charter, skippered, crewed yachts, catamaran, power boat, sailboat, luxury yachts and the ever increasing luxury super yacht charter.
Like most of the Mediterranean, the Greece yacht chartering season generally runs from April to the end of October. The summer season in July and August is the hottest and tends to have strong Meltemi winds blowing frequently. This is also the high season as far as numbers go. The best time to charter a yacht is probably either of the shoulder seasons (April-May and September-October), each side of the main summer season, as the temperatures are the most comfortable, the wind lighter (yet reliable) and the onshore tourists have yet to arrive or have just left in their largest numbers.
Ionian Islands, Greece Yacht Charter
Aegean & Sporades, Greece Yacht Charter
Cyclades, Greece Yacht Charter
Below is a selection of sailing yachts and motor yachts available for charter in GREECE:
(Additional Greece charter yachts can be found here or you can contact us for the full list here)
Greece Yacht Charter Enquiry
Dear Josh, I was just about to write you one word "WOW!!!"Thank you very very much! Your recommendation is now becoming a brand :-) I can now blindly trust your advice :-) I loved the boat. It is in excellent condition. It is rather big, but cozy. We had all the chances for interactive sailing and for the discreet leisure time. We hardly ever went anywhere out of the upper deck, because it was so lovely! The master bedroom was perfect. The idea with two bathrooms is great! I loved the crew. Everyone was welcoming, ready to help and in general they were very pleasant people! Especially the captain and his senior assistant Tasos. We felt as if we were hosted by the family of old friends. Despite the short trip, they shown us lovely places to swim, advised on the island hiking, entertained us with the tender/toys. Food. Majestic! It was the first try for the new chef on Gitana. And he exceeded any expectation! Quality, quantity, the table service ...were impeccable. Your wines arrangement worked very well too! Sailing. We had just two chances to open full sails. But it was great! Otherwise the motor was perfectly sufficient. The boat was remarkably stable while on the go. So, our last minute booking turned out to be a fantastic adventure! Thank you very much! I am glad that you were there to help with this difficult booking. Really appreciated! S/Y GITANA / Athens, Greece / Oct 2 – 6, 2016
Yachting Destinations close to Greece
In close proximity to Greece are a number of exciting sailing destination.
Yachts for Charter in Greece
Greece Yacht Charter News
Charter Yacht Disclaimer
This document is not contractual. The yacht charters and their particulars displayed in the results above are displayed in good faith and whilst believed to be correct are not guaranteed. CharterWorld Limited does not warrant or assume any legal liability or responsibility for the accuracy, completeness, or usefulness of any information and/or images displayed. All information is subject to change without notice and is without warrantee. A professional CharterWorld yacht charter consultant will discuss each charter during your charter selection process. Starting prices are shown in a range of currencies for a one-week charter, unless otherwise marked. Exact pricing and other details will be confirmed on the particular charter contract. Just follow the "reserve this yacht charter" link for your chosen yacht charter or contact us and someone from the CharterWorld team will be in touch shortly.