Mediterranean Yacht Charter Specials and Discounts
The Mediterranean yacht charter specials are updated daily and they can all be viewed below in bulk or by location. Many Mediterranean charter specials are not published, however, so it is important to check with us to get the complete list of yachts on special or discounted rate that are available for rent in either the Western or Eastern Mediterranean. Also, use the links here and below to browse the specific charter specials by each place within the Mediterranean.
There is an entire range of different luxury yachts in the Mediterranean that are available at discounted rates this year. There are motor yachts, sailing yachts, catamarans and larger crewed private superyachts. As a charter yacht broker (or agent), CharterWorld can book any yacht that is available in any Mediterranean yacht charter location or country – and there are many. If there is any area in the Mediterranean that you are interested in, please contact us and we can organise a luxury yacht to cruise there for a charter holiday.
A sunny summer Mediterranean yacht charter special on a crewed luxury yacht takes in the famed French Riviera, the character architecture of the romantic Italian coastline of Sardinia and Portofino, the simple charm of Croatia, and the exotic lure of Greece and Turkey. The clear azure waters of the Mediterranean is a hot spot to experience culture, history, and sophistication, superyachts and natural beauty. Perhaps this is what makes the Mediterranean the most popular location for charter yachts, which as many yachts being chartered here every year as the rest of the world combined.
Summer Mediterranean Charters – The Season
Holiday makers charter yachts in the Mediterranean from April right through to the end of October and there is more info about this here. The high summer season is in July and August and this time is less likely to provide charter yacht discounts. Some of the best times to rent a yacht, and indeed to find a discounted yacht, is in the shoulder season of summer which, being June, September and even October. There is a greater choice of yacht berths in marinas and anchorages when chartering outside the July & August high summer season. For more general info about the Mediterranean as a charter location see this page.
The Mediterranean Summer Weather
During the height of the Mediterranean yacht charter season, in July and August, the climate is warm and sunny and the winds tend to be light. Warm sunny weather also generally lasts the whole summer (April to October) and the sea water temperature is warmest for swimming in late summer, in August and September.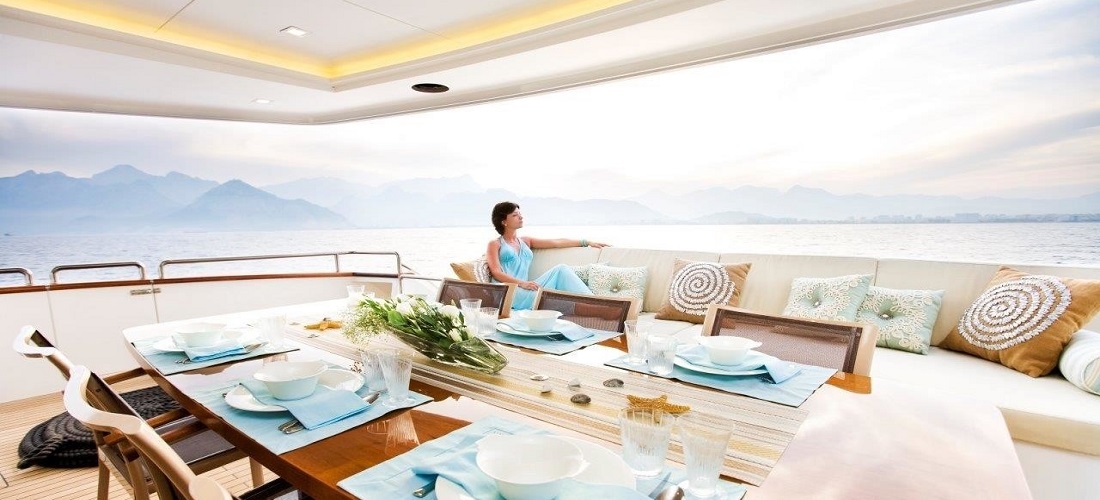 FRANCE
Possibly the most sought after yacht charter vacation area within the Mediterranean, and the world, is France's famous French Riviera. This is the glitzy playground of the world's rich and famous, and luxury yachts are the places to be. Its a beautiful place and this is why everyone comes. The famous yacht charter of the Cote d'Azur runs geographically from St Tropez, in the South of France, right through to the Italian border at Monaco. This area includes perhaps the most exclusive waterfront in the world. There are ports such as Monaco, Cap D'Ail, Ville Franche, Cap Ferrat, Nice, Antibes, Golfe Juan and Cannes – to name but a few. There are boat shows, Film festivals, Grand Prix and many other events that are well known internationally. France's northern Mediterranean coastline (the Cote d'Azur) is home to more than 30 harbours, and more than 3000 restaurants to match.
ITALY
Like the French coast, the Italian Mediterranean coast likewise attracts luxury yacht charters of the highest standing. A short sail from the endearing chaos of Naples, Italy, brings vacationers to the chic Isle of Capri, or the beautiful Amalfi Coast. Italy's other yachting highlights include prestigious Costa Smeralda of Sardinia, the islands of Ischia, Elba and Ponza, not to forget the quaint fishing village of Portofino.
Go here for Italy charter specials.
CROATIA
With typical Mediterranean charm, warm days and clear blue skies, Croatia is a popular sailing yacht charter holiday spot. Luxury motor yachts are also common and just as well as the weather can be so good in the summer july & August that there may not be much wind. Croatia is relatively untouched and natural, as compared with some other parts of the Mediterranean. With over a thousand little islands, amazing historical harbours, calm winds and turquoise waters Croatia and the Dalmatian Islands make for a luxury yacht charter holiday you won't forget.
There are Croatian charter specials here.
GREECE AND TURKEY
Greece, Turkey (and Croatia) are situated in the Eastern Mediterranean with centuries of history, culture and mythology to back up their popular appeal. The Aegean and Mediterranean seas between Greece and Turkey is where the bluest waters meet sheltered bays an ancient ruins and archaeological sites meet friendly seafood taverna. On your Greece or Turkish yacht rental vacation you are bound to see a wealth of culture, history and intrigue in a relaxed and friendly atmosphere. The natural beauty of the eastern Mediterranean areas is equally captivating.
Here is some further info about Mediterranean yacht charter specials in different areas as well as a selection of Mediterranean luxury charter yachts in general. For more information or additional specials, please contact us here.
THE MEDITERRANEAN Yacht Charter Specials
CharterWorld Superyacht Charter News