Sardinia Yacht Charter
Sardinia is one of the most important yacht charter locations in the ever popular Western Mediterranean and this beautiful island sees some of the best and newest private luxury yachts in the world during summer time. Some of the most attractive beaches and harbours in the Mediterranean bring the motor yachts to these emerald shores, whilst the island's fair summer breeze and notable yachting regattas draw in the luxury sailing yachts to visit. Sardinia yacht charter offers an exciting mix of natural rugged beauty culture and history with chic ports, restaurants, designer shops and beach clubs.
When you enjoy your Sardinia yacht charter vacation onboard a head turning crewed private luxury yacht you have the freedom to see your selection of hand picked beaches, bays, harbours and towns on this beautiful jewel of the Western Mediterranean. There is a wide range of luxury superyacht charters available to suit your particular needs.
Sardinia is a draw card for all types of yacht charter and boating holidays from small open style power boats to the latest new impressive yachts. The famously fashionable Sardinia is an autonomous Mediterranean Italian island which has preserved its natural beauty, rich culture, and fascinating history. 300 days of sunshine and fantastic natural beauty attracts crowds VIPs, celebrities and the finest luxury yachts.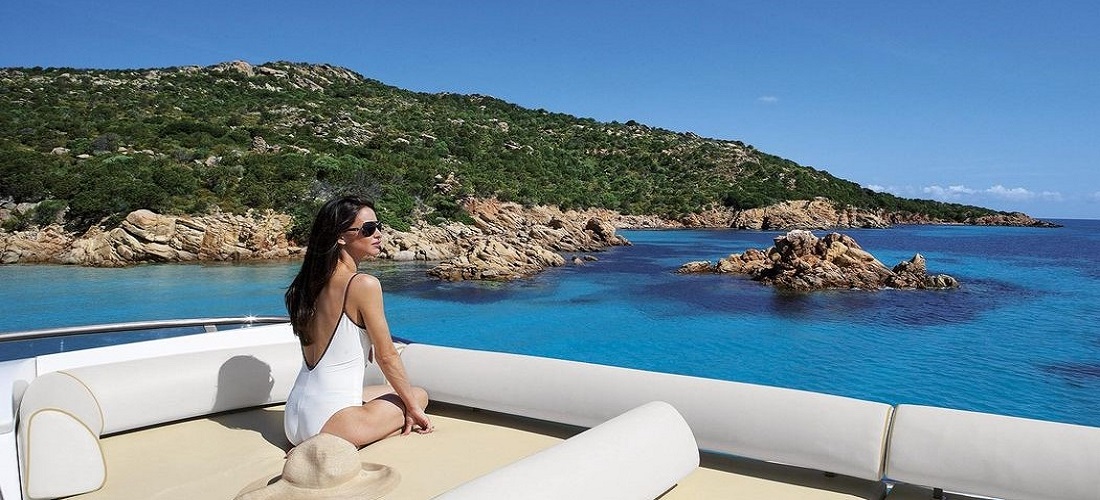 More about a Sardinia Yacht Charter in Italy
A yacht charter in Sardinia, Italy is quite an experience. Sardinia is a universe unto itself. It's an island of Italy, where the local language is incomprehensible to all other Italians. An island with one of Europe's most stunning coastlines; it's waters teem with fish; it's golden sands disappear into oceans of blue; it's rugged mountains are covered with flocks of sheep producing cheese so pungent, your palate will never forget.
Sardinia is completely unique and the perfect place for a yacht charter holiday that mixes excitement with the exotic. During the summer private boats flock to Sardinia. With an average of 300 days of sunshine per year, concentrated from April to September and warm winds off the African continent, the Sardinian climate, can be quite delightful and not quite as hot as other yacht charter areas in the Mediterranean.
You'll find that the Sardinian ports and harbours compare very well with the Mediterranean's other chic hot spots on the French Riviera or Italian Riviera. Summers tend to attract lovely warm days and crowds of millionaires, supermodels and luxury yachts, especially to the prestigious Yacht Club Costa Smeralda at Porto Cervo, near Olbia.
For those whose interests are a little more adventurous, Sardinia's humble bays and ports will allow you to explore some sheer and stunning terrain. A good start is the Grotte di Nettuno (Neptunes Caves) on the beautiful Capo Caccia to the north.
The Sardinian yachting scene has increased in popularity and gone from strength to strength of late, and the types of luxury charter yachts available are all the main types, including motor, sailing, skippered, crewed yachts, catamaran, power boat, sailboat, luxury yachts and the ever more frequent superyacht charter.
As with other parts of the Mediterranean and Italy, the Sardinian yacht chartering season generally runs from April to the end of October. The summer season in July and August is the hottest and tends to have lighter winds. This is also the high season as far as yacht charter goes.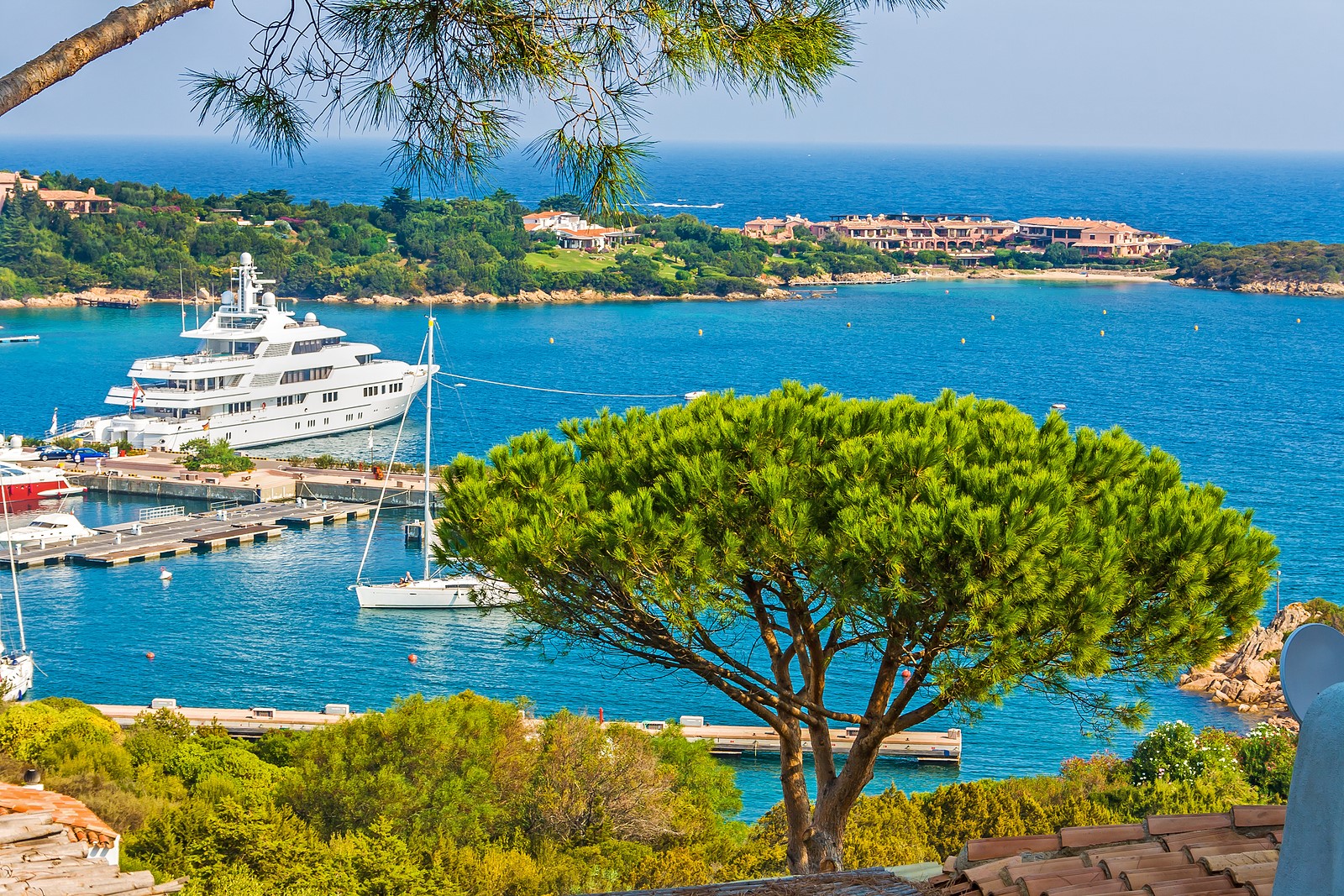 Plain sailing with all the wind you need
Sardinia has a typical Mediterranean climate with three main winds to ensure great conditions for sailing: The powerful Maestrale - from the north down along the west coast, the strong Ponente - offshore west wind breezes through each season, and the warm Scirocco prevailing on the east coast.
Diverse landscape and geography
Sardinia is the second-largest island in the Mediterranean. The island is 270 km from north to south and 145 km from east to west. It's 190 km away from the Italian mainland and 12 km from Corsica. It has an interesting geography with mountains over 1,800 m. The rarely seen rain comes mainly in the winter and autumn.
The gorgeous Sardinia marine coastline
There are hundreds of private coves and stunning beaches along the coastline that beckon you to explore and plunge into. Find mysterious solitude in the myriad of hidden bays and large salt-water lagoons and pools.
With a Sardinia yacht charter, you'll enjoy gorgeous crystal clear turquoise waters varying in all shades from green to blue.See the dramatic rock formations in the north and mesmerizing dunes on the west. Check out the relaxed sophisticated ambiance of the famous Emerald Coast. There are endless opportunities for exploration, relaxation, and pleasure on a Sardinian yacht charter.
Sardinia has a strong environmental ethos

Over 25% of the island's territory is protected - with three national parks – Asinara, Arcipelago di La Maddalena, and Gennargentu. There are also 60 wildlife reserves, 5 W.W.F oases, 25 natural monuments, and a Geomineral Park, preserved by UNESCO. There are many marine reserves and the best way to experience this natural bounty is by boat.
The island has laws prohibiting new building activities near natural and cultural sites. Wind and solar power have increased noticeably in recent years. Carlo Rubbia, Nobelist in physics, is creating an experimental solar/ thermal energy using Jatropha and Colza oils.
Rare native animals and plants
Sardinia is home to the Mediterranean Monk Seal, the Giara horse, the Albino Donkey, the Mouflon, the Sardinian Long-eared Bat, the Sardinian Deer, the Sardinian Fox, the wild boar, and the Maghreb, a skink that can reach 30 cm in length, and the Great Spotted Woodpecker.
The Famous Mediterranean Sardinian Cuisine
Sardines, rock lobster, squid, tuna, scampi, bottarga, and other seafood are predominant in Sardinian cuisine. This is fresh and simple Mediterranean seafood at its best. Also, wild boar and suckling pig are spit-roasted or boiled in bean and vegetable stews, thickened with bread. Your personal chef on your yacht will be able to gather fresh local Sardinia ingredients and create Sardinia inspired cuisine to your taste, as well as any other cooking styles your request.
Rich cultural customs still alive

Sardinians remain enthusiastic warm-hearted hosts. The native language is widely spoken on the island, as well as Italian. Sardinia is home to one of the oldest forms of vocal polyphony, known as Cantu A Tenore, which Frank Zappa and Peter Gabriel have found irresistible.
Sardinian culture is alive and well, and young people are actively involved - with carnival costumes and a unique three reed-cane instrument. Sardinia has produced notable jazz musicians such as Antonello Salis, Marcello Melis, and Paolo Fresu. Goat and sheep rearing are still important for cheese making. Crafts include rugs, jewellery, textile, lacework, basket making, and coral.
Intriguing ancient history with fascinating remnants
Sardinia has a unique heritage dating from 4000 BC - including the Phoenician sailors, Romans, Vandals, Byzantines, Saracen raiders, Spaniards, and African Berber pirates, famines survived on wild ferns and weeds, kidnappings, and political subversion. Much of this history is apparent from remnants and influences on the coastline and can be seen from your boat. Some of the best sites, however, require a shore trip and you can ask your captain or charter broker to organise this for you. Here are a few fascinating remnants:
• Giants' Tombs – at Aiodda near Nurallao-Nuragus and Coddu Vecchiu
• Nuraghe – megalithic round tower-fortresses such as at Su Nuraxi di Barumini - a UNESCO World Heritage Site
• Castle - 13th century, at Acquafredda near Siliqua
• Necropolis - Anghelu Ruju
• Temple - Antas
• Romanesque church - of Santa Maria del Regno
• Catalan Gothic church - 16th century, at Assemini
• Ghost villages and industrial architecture – at Argentiera
• Paintings from the 15th century – at Benetutti church
• Fascinating cave – at Bonu Ighinu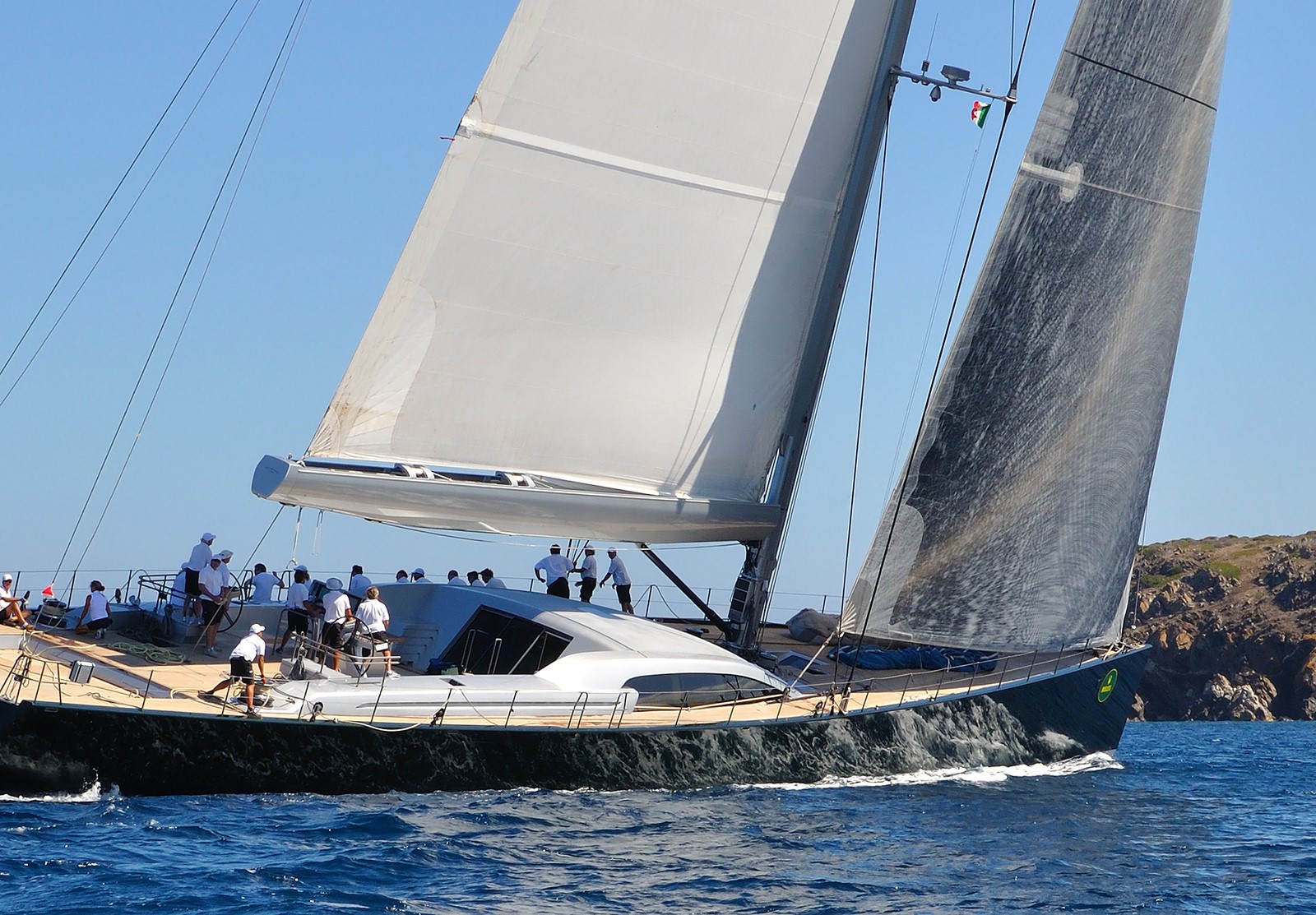 Sports

Sardinia has strong traditions in darts, football, and car racing. Sassari has the Mores Raceway and Cagliari has hosted Formula 3000 racing. Olbia has hosted the Rally d'Italia Sardegna in the FIA World Championship - held on narrow, twisty mountainous roads around the glamorous town of Porto Cervo.
Of course sailing is big here! Cagliari hosts regular international regattas, such the RC44 championship, the Farr 40 World championship, and the Audi MedCup. Several America's Cup contenders have been attracted here, and part of the Louis Vuitton Trophy was held in the Maddalena archipelago in 2010. Porto Pollo is popular with windsurfers and kitesurfers by virtue of a western wind that accelerates between Sardinia and Corsica. In 2005, Aglientu, hosted the Kitesurf World Cup. Sa Istrumpa, also known as Sardinian Wrestling, is a traditional Sardinian sport, officially recognized by the Italian National Olympic Committee.
Sardinia is perhaps one of the most well-known places for yacht racing and superyacht regattas and the annual sailing events include the Sardinia Cup, The Pendennis Cup, the Dubois Cup, the Superyacht Regatta and more.
Inland transport
The best way to get around on a Sardinia holiday is by sea, on your own bespoke luxury private crewed charter yacht. For those who do venture inland a driver and car can be organised to pick you up from your yacht. Sardinia has a system of dual carriage freeways that connect the main towns and transport infrastructures with a relaxed speed limit of 90 km/h. The secondary inland and mountain roads get narrow with many hairpin turns. With a low population density, the smallest territories are reachable only by car. Trains also connect the whole island.
Your Sardinia yacht charter vacation – with yacht rental or crewed yacht – can take you anywhere around this jewel of the Mediterranean. A wide range of superyachts, luxury yachts, and charter yachts is available to suit your needs.
Find out more about the wealth of gorgeous, spectacular, and fascinating places you can start your Sardinia yacht charter holiday from:

• Costa Smeralda (Emerald Coast)
• Porto Cervo
• Porto Rotondo
• Portisco
• Santa Teresa Gallura
• Stintino and Asinara
• Alghero
• Carloforte
• Cagliari
Here is a Sample of Sardinia Charter Yachts - for more information contact us here.
Sardinia Yacht Charter Enquiry
We really appreciated the cruise. Crew and food was excellent. The captain manages very well the boat. We had plenty of good times - diving, kite surf and many activities.... We are very happy and thanks for organising the good weather too! S.B from Switzerland chartered in Sardinia Aug.
Yachting Destinations In and Around Sardinia
Explore Location Guides for great destinations near Sardinia .
Yachts for Charter in Sardinia
Sardinia Yacht Charter Specials
Charter Yacht Disclaimer
This document is not contractual. The yacht charters and their particulars displayed in the results above are displayed in good faith and whilst believed to be correct are not guaranteed. CharterWorld Limited does not warrant or assume any legal liability or responsibility for the accuracy, completeness, or usefulness of any information and/or images displayed. All information is subject to change without notice and is without warrantee. A professional CharterWorld yacht charter consultant will discuss each charter during your charter selection process. Starting prices are shown in a range of currencies for a one-week charter, unless otherwise marked. Exact pricing and other details will be confirmed on the particular charter contract. Just follow the "reserve this yacht charter" link for your chosen yacht charter or contact us and someone from the CharterWorld team will be in touch shortly.