View yacht charters for Thailand
Thailand Yacht Charter
Thailand's, Phuket makes a perfect base for your yacht charter in the Andaman Sea. Phuket is conveniently located close to Burma, Malaysia and the Indonesian Archipelago. Although the potential cruising ground is extensive, Thailand alone holds plenty to keep anyone entertained on a yacht charter - in fact, you'll probably never want to leave. Phuket is a haven of activity with modern resorts, restaurants, nightlife and great shopping, for those who are interested. For those who aren't, you'll be pleased to know that once you start sailing you'll be more likely to come across stunning isolated beaches and wildlife, than flashy nightclubs.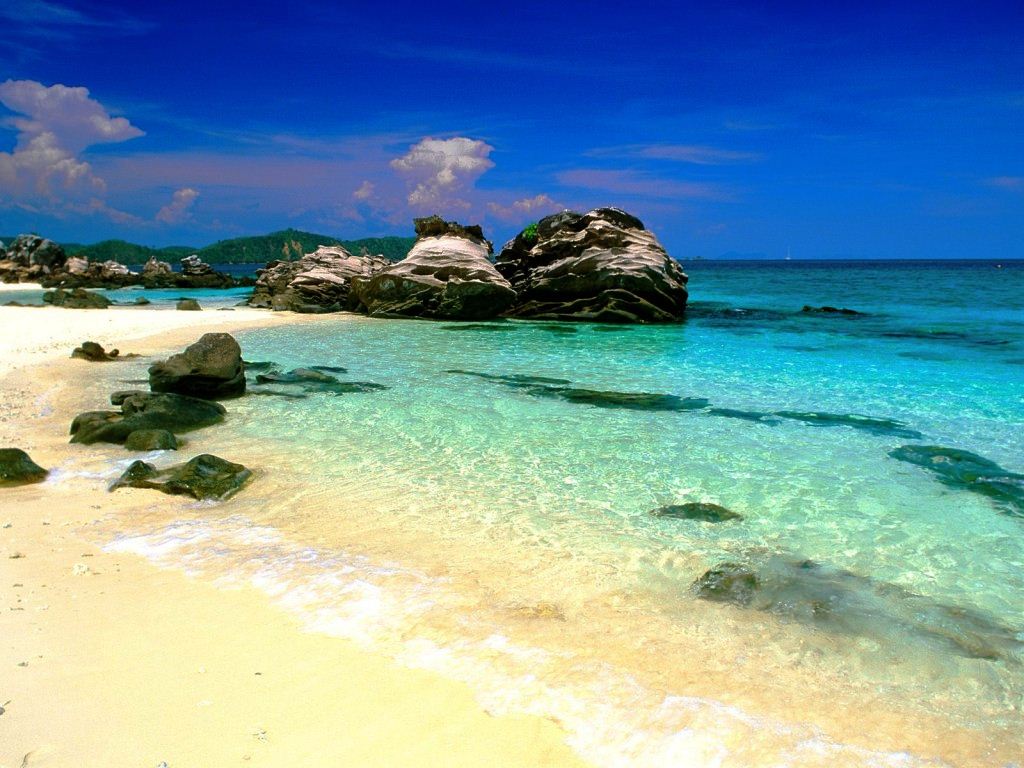 A superb anchorage and highlight for yacht charters, is Pang Nag Bay. Famed for its sea mountains that rise vertically out of the turquoise waters, they truly defy gravity and belief. There are numerous safe anchorages in the bay. Use a tender or dinghy to explore the quaint little coves, fantastic caves and inland lakes. Buy fresh seafood from the local fisherman to enjoy onboard your charter yacht. Grill it up on your aft deck BBQ, or have is specially prepared by your chef.
Cruise on to Koh Phi Phi, one of the most spectacular islands of Thailand. Enjoy magnificent scenery, secluded bays and white sandy beaches on your yacht charter vacation. Follow a jungle trail on a mountain trek or enjoy swimming in the clear, turquoise waters. Relax on your charter yacht and enjoy the warmth of the tropical sun.
One of the things I love about Thailand is the way restaurants set up their little tables and chairs on the beaches at night. The candlelight flickers in the gentle breeze and the moon reflects off the rippling water and for a moment, you're in the most romantic place in the world. Koh Phi Phi has grown enough commercially to have a great range of restaurants and live entertainment to suit all tastes.
There are hundreds of less developed islands also, to enjoy on your yacht charter vacation. The area is home to several national parks and reefs, which offer great opportunities for diving and fishing. For those dedicated enough to cruise out to the continental shelf, near the Similian Islands, there is some fantastic game fishing and the lure of the famous Black Marlin.
Thailand is a romantic and alluring destination for any yacht charter vacation. It has everything you could hope for in man and nature. The sailing conditions are perfect all year, the environment is stunning, the people delightful, and the food, delicious. No matter how long your yacht charter lasts, you'll probably leave thinking it wasn't long enough!
Thailand, Phuket and the Andaman Sea are gaining increasing popularity as a top yacht charter destinations because there are so many interesting things do see and do and yacht charterers really feel like they are in a very different place from home. All the main types of yacht charter are available such as motor, sailing, dive charter, skippered, crewed yachts, catamaran, power boat, sailboat, luxury yachts and off-course the ever increasing superyacht charter.

Thailand Yacht Charter Enquiry
Hi Reia- We are all very good, enjoying SILOLONA and all her features of food, diving, watersports etc but most important do we enjoy Patti, her crew and their deep insights of sailing in this part of the world. Best from Phanga Nga Bay. Clients chartered SILOLONA in Malaysia and Thailand in Dec/Jan
Yachting Destinations Near Thailand
In close proximity to Thailand are a number of exciting sailing destination.
Yachts for Charter in Thailand
Charter Yacht Disclaimer
This document is not contractual. The yacht charters and their particulars displayed in the results above are displayed in good faith and whilst believed to be correct are not guaranteed. CharterWorld Limited does not warrant or assume any legal liability or responsibility for the accuracy, completeness, or usefulness of any information and/or images displayed. All information is subject to change without notice and is without warrantee. A professional CharterWorld yacht charter consultant will discuss each charter during your charter selection process. Starting prices are shown in a range of currencies for a one-week charter, unless otherwise marked. Exact pricing and other details will be confirmed on the particular charter contract. Just follow the "reserve this yacht charter" link for your chosen yacht charter or contact us and someone from the CharterWorld team will be in touch shortly.