Amalfi Coast Yacht Charter, Italy
Any Italy yacht charter must incorporate the stunning Amalfi Coast. The Amalfi coast is around a day sail south of Naples. Amalfi and Positano, like Capri, attract visitors and Mediterranean charter yachts of the highest prestige.
The 50 km of the Amalfi coastline stretches mainly from Sorrento to Salerno. It remains a place of rare and incredible beauty. The hillside towns are a truly magnificent display of Italian engineering and architecture. Terrace houses and buildings cling to steep cliffs, rising from the coastline.
Positano, Amalfi and Ravello are the jewels of the Amalfi Coast.
Positano has always been a favorite with great artists and the illustrious of Italian history. The enchanting seaside town is doused with picturesque beaches, caves of La Porta and romantic candlelit restaurants.
Amalfi, also scenic, is famous for its 6th century Duomo, which is a fascinating blend of culture and architecture. The Duomos original facade is in Oriental style, garnished with brilliant mosaics and bronze doors. Beside the Duomo, sits the Cloister of Paradise, built in Arabian style in the 13th century. It holds ancient sarcophagi, marble sculptures and mosaics.
Ravello is perched atop a cliff, rising 350 ft above the sparkling waters of the Amalfi Coast. Ravello has preserved national monuments and historical features, unequalled by many towns in the world. The gorgeous natural surroundings and spectacular views of Ravello offer plenty to inspire a writer or poet.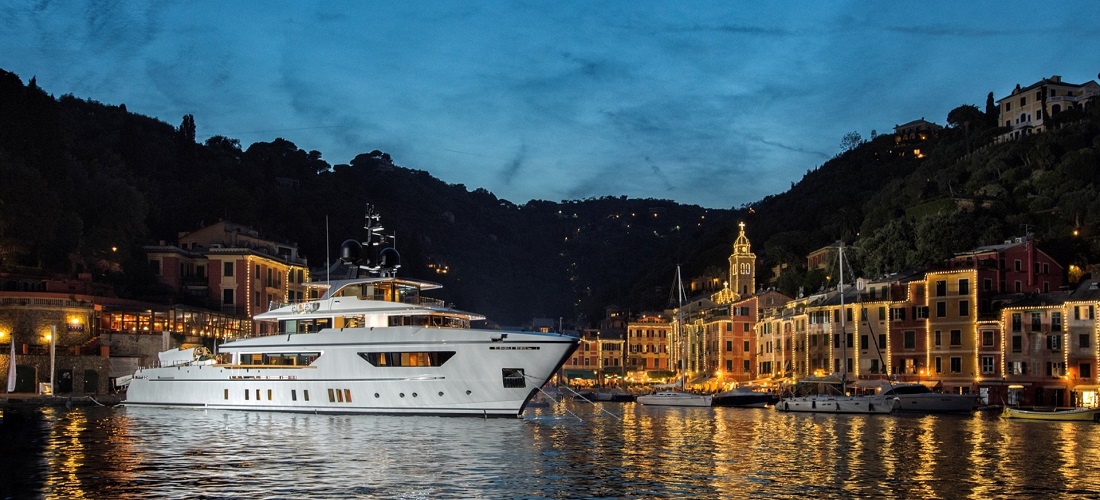 Time and time again people exclaim that the only way to truly appreciate the beauty of the Amalfi Coast is to approach from the sea. A crewed luxury yacht charter along the Amalfi Coast will exceed expectations. There's nothing quite as romantic as anchoring your super yacht against such a picturesque backdrop.
Like most of the Mediterranean, the Amalfi Coast yacht chartering season runs from April to the end of October. The hottest months are July and August. August, in the height of summer madness, is a time when the Amalfi Coast should be avoided. Italian's flock from the main cities to escape the heat, resulting in an assault of tourists. Ironically, July and August is still the high season for yacht charter. The best times to charter your yacht are generally during shoulder season (May-June and September-October), each side of the main summer season. The temperatures are still comfortable, and the onshore tourists have yet to arrive in their largest numbers.
Some other interesting charter locations around Italy: Italy Yacht Charter | Naples & Capri Yacht Charter | Portofino Yacht Charter | Sardinia Yacht Charter | Venice Yacht Charter
Below is a selection of Italy charter yachts, to view more click here or contact us for more information.
Amalfi Coast Yacht Charter Enquiry
Hi Martha, I've been meaning to contact you. Where to begin? Our trip was spectacular and honestly, exceeded my expectations in every way. We were welcomed with a champagne reception. AOIBH was beautiful, modern, spacious and absolutely spic and span clean. The water "toys" were great and certainly were used daily. Our crew was fabulous; Fabio was attentive, great with guidance and always interested in our opinions on the itinerary du jour. He selected some beautiful, local wines that we enjoyed every day. Lynda, our cook-good GOD-she is incredible. Our family is a family of utter "foodies"; we seek out amazing restaurants and cook a lot at home. Given my Italian father and upbringing, we especially love good, proper Italian food. Lynda's cooking was outrageously good. Everything she made was outstanding. Her food was so amazing (I dare say, better than any restaurant we dined at while on the Amalfi Coast the week before-and we ate at some lovely restaurants) that we had no interest in getting off at any ports to have food in "town". Rather, we ate every meal onboard. This truly added a special touch to an already lovely trip. She went out of her way to meet our few food allergies- her cooking was like a week of a 5 star dining experience. Fabulous! Gemma was lovely as well-always attentive and proactive in making sure we had everything we needed-setting beautiful tables at meal times, etc. The crew was a delight to have around-another nice touch to our trip. Sardinia and the nearby archipelago was just stunning. Weather and water temperatures…perfect. We travel a lot and are fortunate to have done some amazing trips. All wholeheartedly agreed that this experience was tied for first place on our list of favorite trips. We will certainly look to book again with this crew and boat (or LIR). The water life in the Caribbean is more vibrant than in the Med-so we may look at that locale. We consider ourselves so lucky to have found this boat, crew and locale in what was the 11th hour. Thank you for all of your assistance with putting it together. We absolutely loved everything. Please, if you would, send our thanks to the owner as well. S/Y AOIBH / Southern Italy / Aug 2 – 8
Yachting Destinations Near the Amalfi Coast
In close proximity to the Amalfi Coast are a number of exciting sailing destination.
Yachts for Charter in the Amalfi Coast
Yachting News From Amalfi
Amalfi Coast Yacht Charter Specials
Charter Yacht Disclaimer
This document is not contractual. The yacht charters and their particulars displayed in the results above are displayed in good faith and whilst believed to be correct are not guaranteed. CharterWorld Limited does not warrant or assume any legal liability or responsibility for the accuracy, completeness, or usefulness of any information and/or images displayed. All information is subject to change without notice and is without warrantee. A professional CharterWorld yacht charter consultant will discuss each charter during your charter selection process. Starting prices are shown in a range of currencies for a one-week charter, unless otherwise marked. Exact pricing and other details will be confirmed on the particular charter contract. Just follow the "reserve this yacht charter" link for your chosen yacht charter or contact us and someone from the CharterWorld team will be in touch shortly.