Yachts Available Now - Summer High Season in the Mediterranean

Here are some yachts which are still available for high season summer in the Mediterranean or have had a cancellation - at the time of writing on Thursday 4th of June.
Last remaining availability for the world's luxury yachts:
If you have any interest in one of these yachts, would like more info or to talk to someone, please contact Reia Stannard by email here or in the uk office in London +44 207 193 7830

LADY SHERIDAN

The spectacular 58m LADY SHERIDAN has one remaining window of availability in high season: 5-12 July, Sardinia/Sardinia.
EUR 345,000 / wk high season, MYBA terms.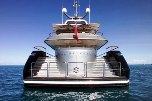 SLIPSTREAM - Available due to a Cancellation!
Due to a cancellation, SLIPSTREAM is now available for a charter (Nice/Nice).

A superb charter yacht! 161,000 USD / wk plus expenses

HOKULANI – New Palmer Johnson 150'

This yacht was the buzz of the broker's show.
Available from 23 August South of France.

175,000 Euros / wk plus exp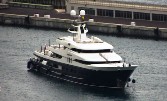 AMADEUS - 229' / 70m 2007 motor yacht.
New to the market. Owner does not wish to advertise her so please contact us for a PDF brochure. 450,000 Euro / wk plus expenses.

AVAILABILITY: Until 13 July – from SOF and From 1st Sept – from SOF - 7 days minimum charter period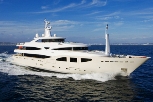 MARAYA – New CRN 54m with excellent crew.

Available from the 26th of August France.
300,000 Euros per wk plus exp

TIARA - Superb 55 m Alloy Sailing Yacht
Availalbe all July!
190,000 Euros / wk plus expenses.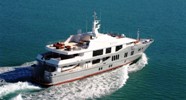 OUTBACK

July 1 – 15th
399,000 Euro / wk plus exp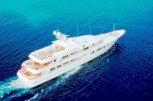 CALLISTO 65m Superior Feadship
Callisto is rarely available for charter but just opened her calender for the Caribbean winter, Christmass is OPEN!
485,000 USD / wk plus expenses.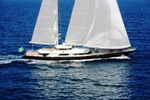 SELENE - Pereni Navi Sailing Yacht

July 15th – 23rd Croatia
200,000 Euro / wk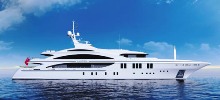 AMNESIA – New Benetti

7TH July – 22nd July Croatia
325,000 Euro / wk plus exp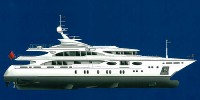 LATINOU - New Benetti

26 August – Monaco
231,000 Euro / wk plus expenses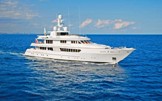 NOA IIV - Beautiful Feadship with Impressive Art
Available from 10 July for a week to ten days

180,000 Euro / wk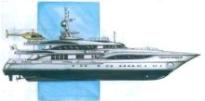 ALIBELA - New Benetti

14th August South of France
259,000 USD / wk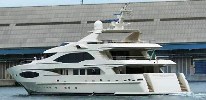 Princess Iolanthe - MondoMarine

23 July – 7th August South of France
165,000 Euro / wk
SOUTH - Navi Rossi

SOF to SOF

265,000 Euro / wk


SALU – Brand New Benetti

SALU sleeps eight guests in four staterooms, each with ensuite facilities. The Master stateroom is located on the main deck, with ensuite bathroom, the VIP cabin, a double and a twin cabin with an additional Pullman bunk, on the lower deck. A total crew of 5, headed by Captain David Slee look forward to greeting guests.

SALU will be available from 10th July 2008 throughout the rest of the month and throughout all August in the West Mediterranean.
SALUs charter rate is €65,000 per week MYBA terms in the West Mediterranean.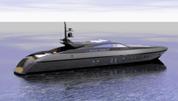 PURE INSANITY - Baglietto 115
This yacht will be based in Monaco.
95,000 Euro / wk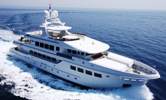 HAPPY DOLPHIN II
M/Y "Happy Dolphin II" is in Croatia.
Charters in Croatia before or after this charter are welcome! Note also that all month of August is STILL available!
Charter rates: High Season: € 115.000 per week / Low Season: € 87.000 per week, plus 4,5% V.A.T. plus expenses.

M/Y JAZZ OF MONACO - 30M, Benetti Tradition
A beautiful Benetti tradition built in 2007 JAZZ OF MONACO is based in Monaco, she can accommodates 8 Guests in 4 Cabins including luxurious Master Cabin and VIP Cabin as well as 1 Double and 1 Twin. She also offers a great outdoor area and an amazing Audio & Video system.

LOHENGRIN - Available in Med!
The stunning 5 stateroom Trinity
West Mediterranean.


WILD THYME – AVAILABLE DUE TO CANCELLATION

Due to a recent cancellation this beautiful 37m Benetti Classic "WILD THYME" is now exceptionally available at the special reduced rate of Euros 95,000/wk for the following gap:
– South of France



NORTHER LIGHTS - 132' Tri deck Westship
Northern Lights EASTERN MED (GREAT RATE)
She is sleek yet warm, refined yet sexy Master on main deck/sky lounge/ Spa Pool sun deck/Stocked with all new toys/full fitness suite. 16 page PDF brochure, please ask. Fantastic rate: $125,000 USD



SAI RAM - Huge Modern Benetti
A fantastic opportunity to book this very impressive Zen-style modern motor yacht. With accommodation for 12 guests, she has a large volume for her length SAI RAM is the ideal yacht for a family charter or group of friends. 225,000 Euro / wk
Available 1-19 June in the West Med only.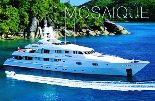 MOSAIQUE – Final high season dates!
Mosaique accommodates 12 guests in 6 cabins, crew of 13 who continue to uphold a reputation of excellence.
(Dubrovnik/Venice) –7 day charter required, (Croatia area) – 7 day charter required Euros € 200,000/wk plus expenses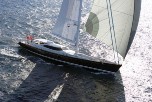 GANESHA – Dubois Sailing Yacht

August
90,000 Euro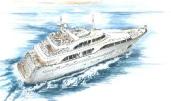 QUEST – new Benetti

South of France
115,000 Euro
If you have any interest in one of these yachts, would like more info or to talk to someone, please contact Reia Stannard by email here or in the uk office in London +44 207 193 7830