View yacht charters for Brittany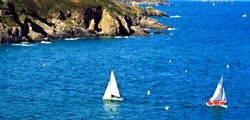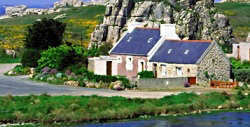 Brittany Yacht Charter, France
Everyone has either experienced, or heard endless stories about, the beauty of France. Chartering a yacht is a great way to see all the best that France has to offer. The French Mediterranean coast yacht charter may be the most famous, but in terms of great sailing, the western coast of France, such as Brittany, is probably superior and is thus home to a number of great yacht charter bases.
Morbihan is excellent yacht chartering with its warm, sunny climate, 50 mostly uninhabited islands, white sandy beaches and great anchorages. There is plenty to explore with beautiful old towns and villages, often found up little rivers or creeks. Vannes and Auray are two such excellent examples.
Some of the rivers of Brittany provide the opportunity to sail right up them, such as the river Vilaine, where you can visit Reedon amongst other towns and villages. Remember to read your French phrase book so you can go ashore and try out your French at a little waterfront restaurant or bakery. Vivre le France!
The types of yacht charter available in Brittany, France are all the main types including motor, sailing, bareboat charter, skippered, crewed yachts, catamaran, power boat, sailboat, luxury yachts and even the occasional super yacht charter.
Like other charter areas in Western Europe the main yacht charter season runs from May to September.
Compared to its relatively modest land area, Norway's coastline is immense, if you include the mainland, the roughly 50,000 islands, the numerous fjords and all indentations it measures 21,925. This gives yacht charters a lot of opportunity for immense sailing and cruising pleasure in protected waters.
In the land of the midnight sun, you'll share your yacht charter experience with few, other than the local fishermen and several species of wildlife. Norway's most pristine cruising area is Lofoten, where rugged pinnacles protrude from the sea. The most visited fjords are Vestlandet, which in cases a long stretch of the Norwegian coastline. The landscape here will inspire the stereotypical images of Norway. Imagine yourself here, cruising through the incredible peaks, on your own yacht charter.
The best time to cruise the Scandinavian coasts, is from April to August, although, with the correct clothing and a heated charter boat, a western coast cruise of Norway, in off season, can be an equally unforgettable experience.
The types of yacht charter available in Scandinavia, Finland, Sweden and Norway include motor, sailing, bareboat charter, skippered, crewed yachts, catamaran, power boat, sailboat, and even the occasional luxury yacht charter.
A yacht charter in Scandinavia will leave you feeling breathless from the shear raw beauty the landscape provides.
Brittany Yacht Charter Enquiry
Brittany Yacht Charter, France Everyone has either experienced, or heard endless stories about, the beauty of France.
Yachting Destinations In and Around Brittany
Explore Location Guides for great destinations near Brittany .
Yachts for Charter in Brittany
Northern Europe Superyacht News
Charter Yacht Disclaimer
This document is not contractual. The yacht charters and their particulars displayed in the results above are displayed in good faith and whilst believed to be correct are not guaranteed. CharterWorld Limited does not warrant or assume any legal liability or responsibility for the accuracy, completeness, or usefulness of any information and/or images displayed. All information is subject to change without notice and is without warrantee. A professional CharterWorld yacht charter consultant will discuss each charter during your charter selection process. Starting prices are shown in a range of currencies for a one-week charter, unless otherwise marked. Exact pricing and other details will be confirmed on the particular charter contract. Just follow the "reserve this yacht charter" link for your chosen yacht charter or contact us and someone from the CharterWorld team will be in touch shortly.