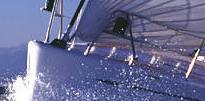 Bareboat
A Bareboat charter gives you ultimate cruising independence and freedom. A bareboat charter means you are the skipper and your friends are the crew. Despite the term ?bare?, most modern charter bareboats are nowadays actually quite extensively appointed.

If you seek a charter with complete independence, then a bareboat is for you. A bareboat will give you the freedom to cruise your own itinerary at your own pace, when sailing around in the worlds most beautiful and desired yacht charter cruising locations. A bareboat charter is the ultimate vacation to get from it all.

Bareboats and skippered yacht charters are essentially the same charter boats. The difference is whether there is a professional skipper aboard to guide you, or whether you or someone in your party is the captain. With a bareboat yacht charter, the yacht is provided fully equipped for use by a charter party. The boat then becomes the complete responsibility of the charter party and a nominated captain with suitable experience.

This form of charter vacation is the most common worldwide. Bareboats can be found in a huge variety of shapes and sizes in most great cruising areas around the world. In some of the more remote locations there may not be any fully crewed charters available. In most areas, however, there will be a bareboat representation (skippered or not). Use our yacht charter search or professional charter consultants to help find the best bareboat for you.
Why book a bareboat through us?
Charterworld's services are completely free. When you book your charter through us, you pay no more than dealing directly with a charterc operator. We will discuss which companies and boats best fit your requirements in your price range. In addition you get our literature, large volume, unbiased professional advice and experience, additional security, more information and additional travel services. We simplify the booking process for your whole yacht charter experience.
Please use the a-z charter boat search function below or contact CharterWorld if you have any questions about bareboats.